How to Change Notification Settings
Inquiry Notification Setting Information
---
Changing Inquiry Notification Email Addresses
There are two ways to change your Inquiry Notification Settings depending if you want to change your primary email address, add a secondary email address, or list your company email address.
Primary Email Address
The primary email address linked to your inquiry notifications is found in your Host Dashboard "Settings" tab, which is linked to your HereStays account.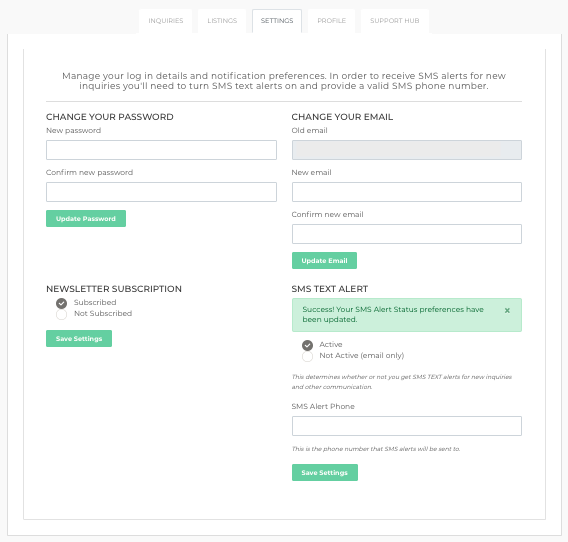 .
Text Message Notifications
Text message notifications are a great way to stay on top of travelers who want to book your property. Answering inquiries quickly increase a host's chances of winning that book inquiry.
In your Host dashboard navigate to the 'Settings' Tab
Enter the cell phone number in the SMS text Alert field
Press save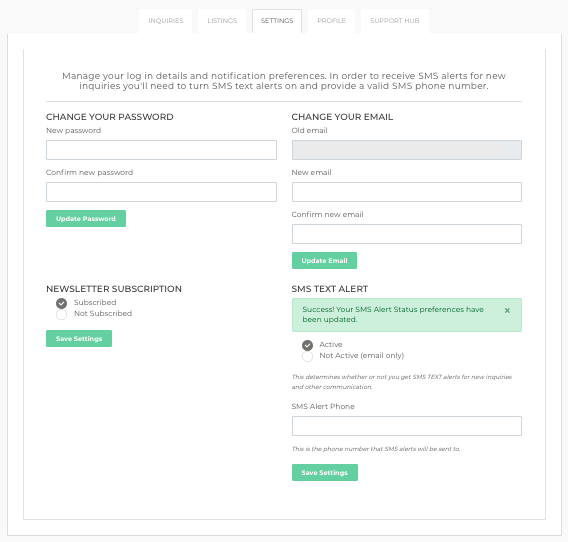 Adding a Secondary Email Address
A secondary email address may be entered into the property listing itself. This is useful if a homeowner uses a property manager but wants to keep control of their HereStays account.
In the Host Dashboard, click the "Listings" tab
press on the "Details button on the property you wish to edit
under the General Info tab enter the "secondary notification email" address that you wish to get a copy of the inquiries
Press save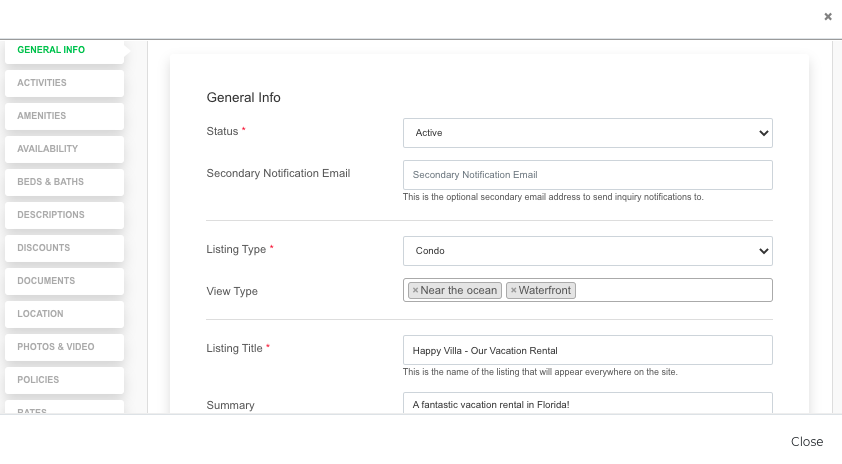 Changing Newsletter Settings
At times we will need to contact our hosts with updates about changes, promotions, and industry events. If you do not want to receive any information use the Newsletter section in the Settings tab to unsubscribe from general company information.
Beta! - Coming soon
Company or Brand Profile - View All My Listings Page
The View All of My Listings Page is a great way to showcase your brand or company. We allow backlinks to websites as well as company email address contact information. Ensure you fill out your details found in the Company Info section of the Host Dashboard "Profile" tab.
in the Host Dashboard, click the "Profile" tab

scroll down to the "Company Info" section



enter company details as follows: Company name, email address, phone number, and a brief description of the company and its inception date
Upload a company logo
Press save
Note:
Do not use website URLs in the description area of the company info section. There will be a field for the website to be entered for this purpose.