Join HereStays Direct Booking Marketplace
List your vacation rental and reach Texas travelers.
---
Meet HereStays!
HereStays is the go-to destination for travelers who are interested in booking short-term rental accommodations. We provide an easy way to connect hosts with potential clients and manage your property marketing, making sure you get all of those reservations fill up quickly!
No more expensive or tedious online advertisement methods; just list on Here staple every trip that could potentially be booked through one place - saving time (and money). Our software connects millions--yes million!--of customers looking not only domestically but internationally as well so there's no need to struggle alone anymore when it comes down to deciding which host would best suit their needs.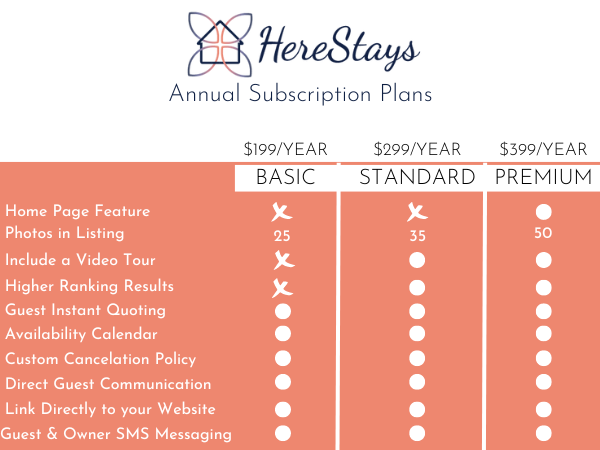 How Does HereStays Work?
The major vacation rental websites are costing hosts and managers more money. It's starting to edge out profitability from property management companies because the only solution is for them, businesses in this industry with withered profits due largely by these major listing sites who infest our marketplaces everywhere nowadays--to pass those fees along which savvy travelers have become wise about taking advantage of when compared against smaller operations where everyone can be WELCOMED!
Hosts and Managers have the Following Benefits:
Texas-destined guests can book securely knowing that HereStays validates each property.
You can increase the interaction you have with prospective guests by directly communicating by email and phone, which increases your brand value and recognition.
You fully manage the rates, calendar availability, and reservation management. We do not cancel reservations for any reason unless the guest requests with you directly.
Hosts and property managers are the merchant of record. You directly process payment through your PMS or credit card processing platform.
HereStays uses robust marketing strategies on several channels to bring the guests to YOU.
Driving the #bookdirect demand is HereStay's passion!! The guest pays no fees or surcharges that are found on the large OTAs.
Because of our subscription plan model for hosts and property managers, you are in direct control of the costs to list on HereStays. One cost for the full year means that you know exactly with your guest CAC (customer acquisition cost) will be.
Have any questions, please contact us directly by emailing support@herestays.com
Where is HereStays?
We are growing, and are always looking for new properties to list! We have a high demand in areas where there is currently no listing. You will be automatically registered and searchable once your vacation rental property passes the owner verification process, so don't hesitate - to start advertising today with us !!!
HereStay Benefits for Property Managers and Hosts
Property Manager and Hosts Annual Subscription Membership
Direct Communication with Guests
No Traveler Fees
No Policy Restrictions
Use your own PMS or Payment Processing Platform
Low Annual Cost
Last Minute Deals Ads
Here's our team focus!
With our vast experience in the travel industry and knowledge of how to best market your vacation rental property, Here Stays is confident that you will be satisfied with all aspects from start-to-finish. How do we do this for you, the property manager or host?
Robust Google Ad Campaigns
Paid and Organic Social Media Marketing
Dynamic Email Campaigns to Guests and Blog Subscribers
Blog Content Marketing to Drive Website Traffic
Advanced SEO Strategies
Partnerships with Industry Associations
Listing on HereStays makes it easy to earn rental income. We offer hosts what the large online travel agency sites cannot, personal attention, and targeted marketing for travelers Texas bound their vacations!
Each Property is verified for Ownership or Professional Management
Integrity and honesty are at the heart of our business. We want you, as a guest or owner to be confident in your stay with us-to know that we're holding up not just property standards but also customer service expectations from all other aspects: cleanliness; location within the town; how quickly someone can respond when needed... everything!
We take pride not only because it reflects well on what kind of people run this company -which consensus seems clear after reading through some reviews online-, but also because knowing there'll never come any surprises once guests book their trips thanks directly through HereStays.
Listing Features
Annual subscription pricing starts at just $199 per vacation rental listing
Searchable by date
Searchable by location
Searchable by vacation type
Searchable by map
Quick Quote calculator by date
Direct link to host website
Direct link to host property video
Up to 50 photos depending on the subscription level
Host house policies
iCal URL link syncs for Availability Calendars
Host Landing Page for All Listings